2019 Amelia McGuiness Events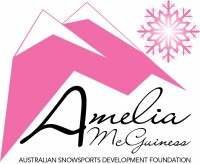 2019 EVENTS
ABOUT THE EVENTS
The Amelia McGuiness Events are a fundraiser for the Amelia McGuiness Australian Snowsports Development Foundation (AMASDF) and are also an opportunity for participants to have practice events ahead of the SSA Northern States Interschools Championships
The AMASDF was established in memory of Amelia McGuiness who tragically died in a skiing accident in 2009. In August, several fundraising events are being held to support the foundation.
All monies raised are distributed to our emerging athletes via the Amelia McGuiness Scholarship Program, applications to open in mid-September each year. This scholarship is dedicated to providing practical support (for equipment, training and resources), for up-and-coming winter snowsports athletes from the age of 10 to 18 years old, across all disciplines including Para winter athletes. 2019 marks the 10th Anniversary of Amelia's passing and since then, the foundation has distributed $194,860 in funds to emerging athletes.
Entry is by Individual entry through the SSA portal. Entries close August 12. Late entries may be taken on the day of the event, providing the maximum quota of participants has not been reached.